CORNER GUARDS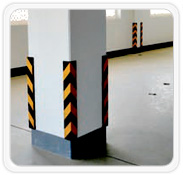 Description:
The solid rubber protects your property, corners, columns and entrances exposed to vehicle and warehouse traffic. The wrap around Design takes impact from vehicular Hits. The metal retainers protect the concrete wall against impact and the rubber protects the vehicles from getting damaged.


Materials:
They are manufactured using high impact resistant Natural Rubber, Standard color is black. Designs are available in various sizes with yellow strip, with or without galvanized iron insert clips.


Advantages:
Rubber Column Guards are weather resistant, abrasion resistant, crack resistant and do not stain the vehicle.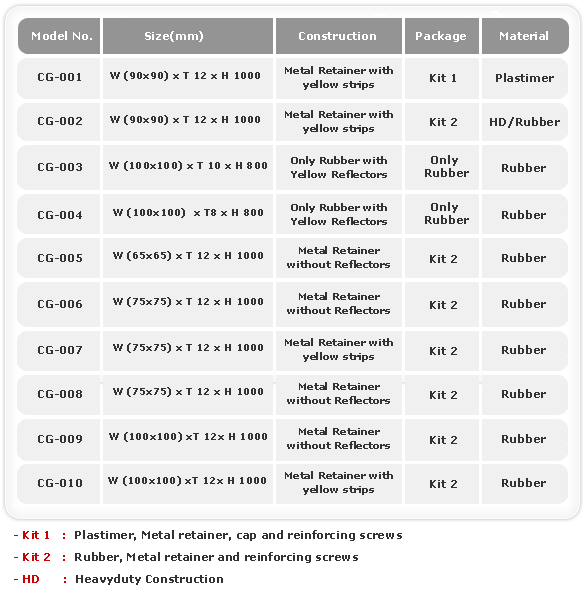 WHEEL STOPPERS


Description:
Wheel Stoppers are designed to provide good energy absorption from vehicle impact, They are manufactured in solid rubber and Plastics for a tough service life. The product absorbs impact and quickly recovers back to its original shape when the vehicle is removed.


Materials:
Wheels Stoppers are made of a high impact resistant rubber and have excellent weather resistance, crack resistance and abrasion resistance properties.



Advantages:
The Stoppers reduce the risk of accidental damage to Property. They give the drivers a clear indication that their Wheels are parked correctly. They are supplied with Pre-drilled holes.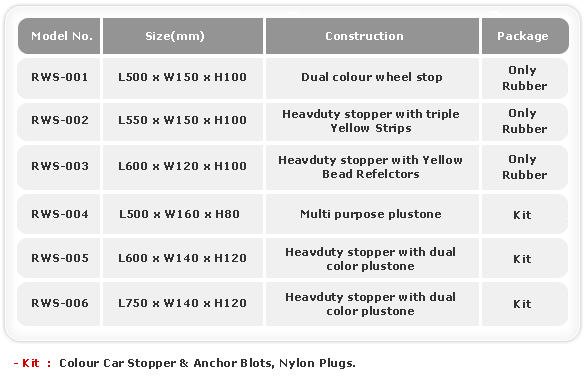 WALL GUARDS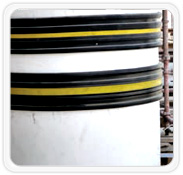 Description:
Wall Guards are designed to protect the structures from impact of vehicles and general traffic. They can also be used to protect colums. Wall Guards are available in a variety of configurations and sizes, offering maximum impact protection for walls and columns in pedestrain and vehicular traffic areas. Profiles in this group feature superior performance characteristics including energy absorption, abrasion resistance and ozone resistance.





Materials:
They are manufactured using high impact resistant rubber. Standard color is black. Designs are available with yellow strip. Wall Guards have excellent weather resistance, impact resistance and are stain proof.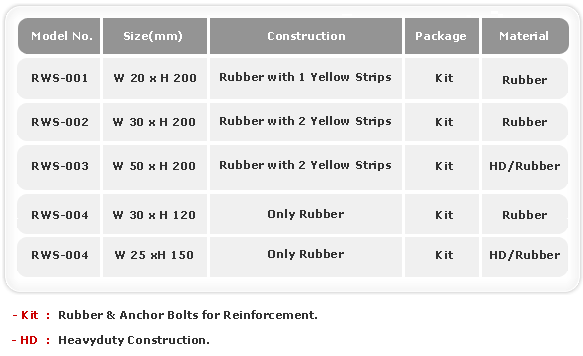 SPEED HUMPS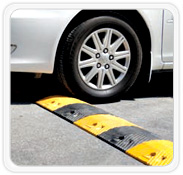 Description:
The Speed Humps are designed to reduce the speed of the vehicle. Speed Hump is a traffic calming device used to reduce vehicle speed and volume, on residential streets. Installing the humps will reduce the risk of accidents in your site. These humps have deep ribbed surfaces for extra grip which are supplied with suitable holes and can be easily fixed in asphalt, concrete or blocks.






Materials:
The Speed Humps are made of high impact resistance moulded rubber. They have excellent weather resistance and abrasion resistance.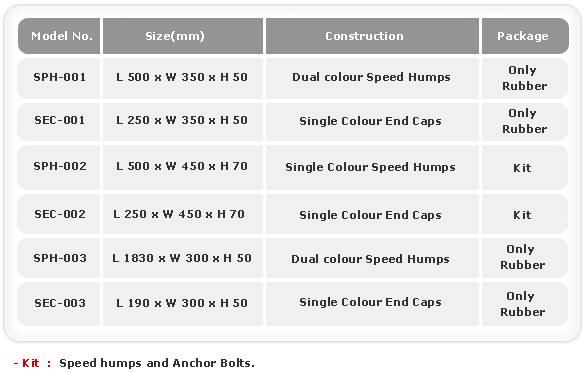 CABLE PROTECTORS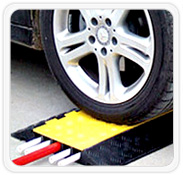 Cable Protector Provide safe passage for pedestrians and vehicles. They are constructed with large channels to suit a variety of cable and hose sizes. Ideal for industrial and mining applications. They are suitable for indoor and outdoor use. They have a Checker plate pattern for increased traction. They have a Non-conductive construction with easy to interlock Hinges .They can be fixed with bolts for more permanent applications . These protectors are perfect for valuable electrical and delicate multi-media electronic cables.




DELINEATORS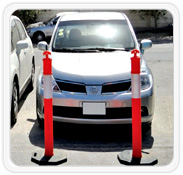 Delineators are particulary beneficial at locations where the traffic alignment might be confusing or unexpected, such as at lane reduction transitions and curves. Delineators are effective guidance devices at night and during adverse weather. An important advantage of delineators in certain locations is that they remain visible when roadway is wet or Dust covered.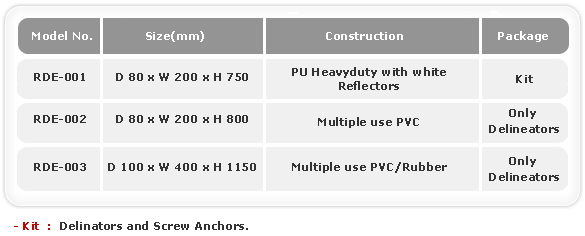 CONVEX MIRRORS



Convex mirrors are firm and durable. These anti-crash mirrors are used in places such as viewing driveways, alleys, parking garage, entrances, and exits.

A round convex mirror works very well. They are efficient in providing a Clear and definite mirror image. They are easily and conveniently installed, light weight, Durable and UV resistant.




PARKING LOCK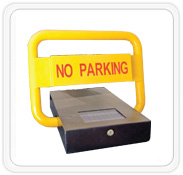 Telecontrol parking lock adopts to a high quality plate created on a firm base, resistant to Dust, rain water, (can also be used in a submerged water level) can be installed in an indoor as well as in outdoor locations.

Lock in the original size will not hinder low floored sports cars and can allow any car to pass-through. In a rising position can hinder any cars from a sports car to a SUV. it can be made with a adjustable rising position.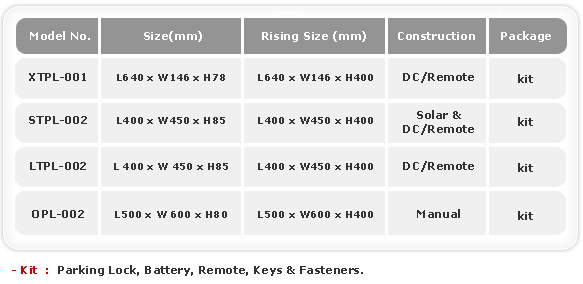 PULASTIC SPORTS FLOORINGS


Descol:
Descol is an innovative and multifaceted organisation, pooling a wide range of activities under one roof. From research and development to production and installation including service, consultancy and after-sales support.


Pulastic sports floor:
A Pulastic sports floor offers the perfect surface for school assemblies, exhibitions, concerts or other large-scale events. The sports floors offer the ideal mix of safety and performance in a school gym, indoor athletic centre, professional arena, fitness and physiotherapy studio's.

Pulastic sports foor solutions are classified in four lines in four lines, each with unique characteristics and qualities: Bronze, Silver, Gold and Platinum with similar comfort levels on the basis of long-term load-bearing capacities and ball bounce. In addition to its 'precious metal' product lines, Pulastic has additional specific product lines: Performance, Facelift, Solid and Custom Line to meet specific wishes and solutions.


Advantages of Pulastic sports floor systems:
• Seamless, non-porous and smooth surface.
• Meets international standards.
• Durable.
• Optimum sports comfort and injury prevention.
• Perfect balance between friction and sliding properties.
• Good vertical ball behaviour.
• No glare and clear line marking.
• Multifunctional use.
• Maximum static and dynamic load-bearing properties.
• Wear-resistant water-based coating.
• Excellent colourfastness.
• Optimum soundproofing properties.
• Wide range of modern colours and effects.
• Easy maintenance and simple to clean and repair.


Certification and Approval:
• FIVB (Fed.Internationale deVolleyball)
• FIBA (Fedinternationale de Basketball)
• ITF (Inrenational Tennis Federation)
• IHF (International Handball Federation)
• BWF (Badminton World Federation)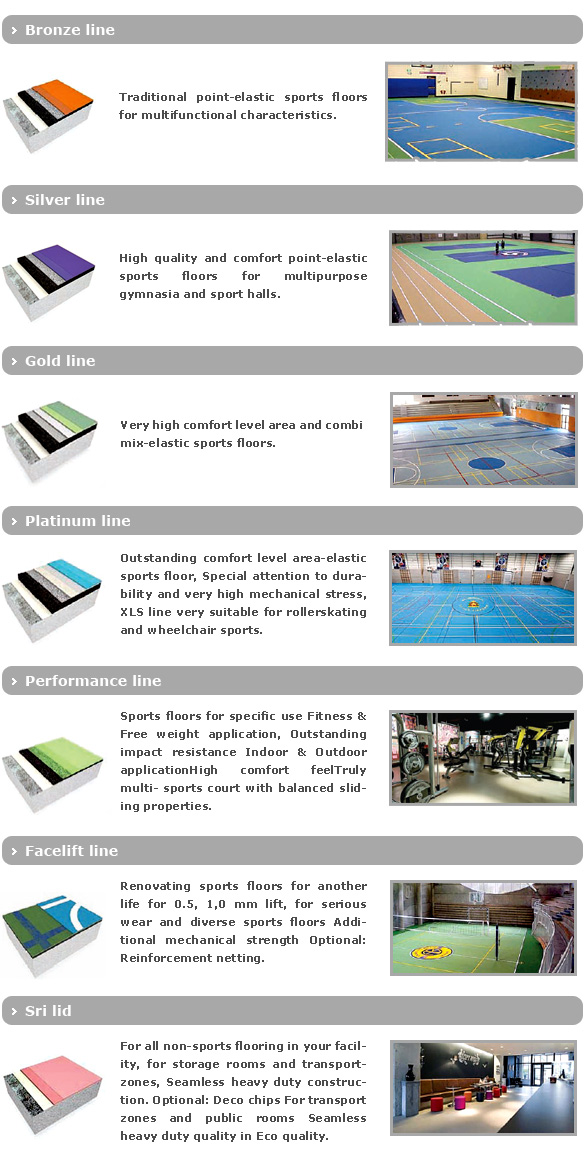 FLEXCOURT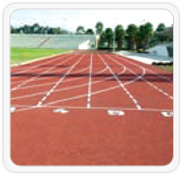 These outdoor sports surfacing products in our range are carefully designed and detailed prior to installation. These surfaces are durable and weather resistant ye. we are always willing and pleased to assist you from inception to completion whether it is a running track, school / children's playground or multi-purpose halls.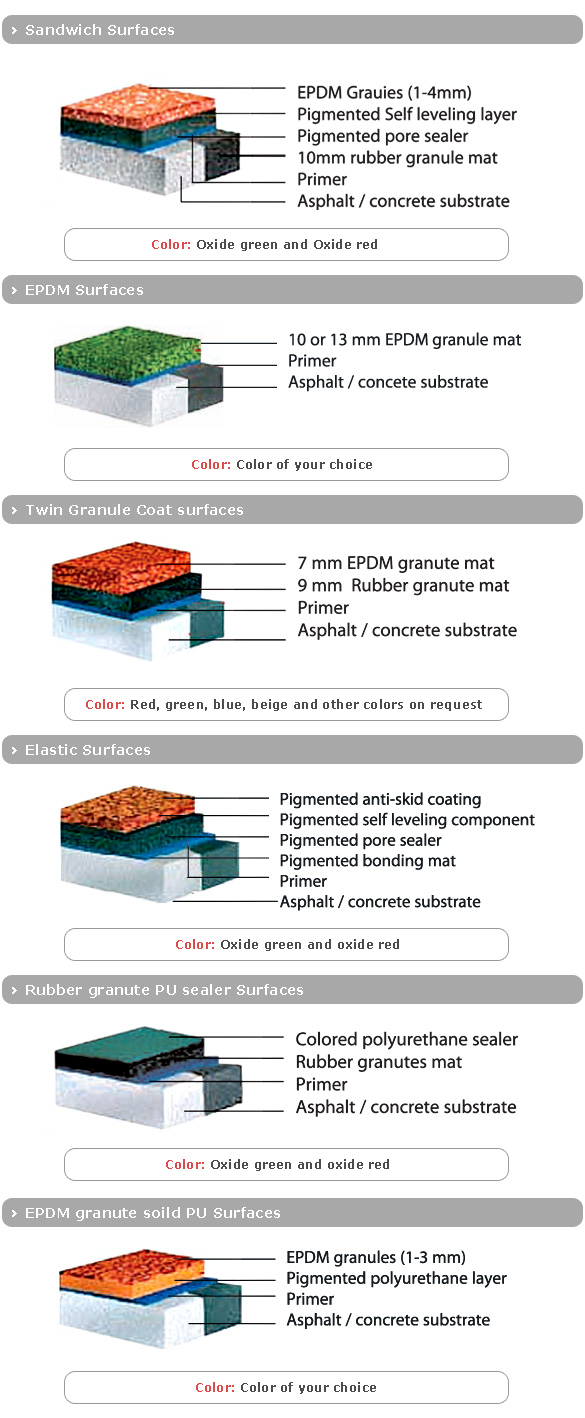 SPECIALITY SURFACES


Tiles:
These tiles our range are slip resistant, shock and helps to prevent Physical and internal injuries. They come in different thicknesses, size and colors. These are blends of ground rubber particulate specially blended to enhance tile strength, durability and energy absorption.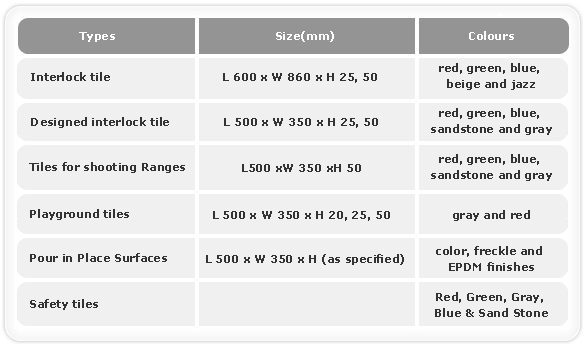 Technical Data:

The Tiles Conform to the following ASTM Standards:
01. ASTM F1292 Impact Attenuation.
02. ASTM D2859 Flammability.
03. ASTM E648 Flammability.
04. ASTM D2047 Slip Resistance.
05. ASTM D624 Tear strength.
06. ASTM D1004 Tear strength.
07. ASTM D412 Tensile Strength.
08. ASTM D638 Tensile Strength
09. ASTM D695 Compression set properties.
10. ASTM D149 Electrical Break down.
11. ASTM D1044-99 Abrasion resistance.


FLEXTREME



Uni coloured and wooden-imitation indoor vinyl sport sheet, assuring optimal adhesion on its surface through its embossing. Due to its special foam layers it has a very high indentation rate, which is very important in view of the health of the sportsmen. Restoration of the foam layers is very fast, thus the flooring has an extremely good sport performance. Cross Linked Polymer system high wear resistance and easy maintenance.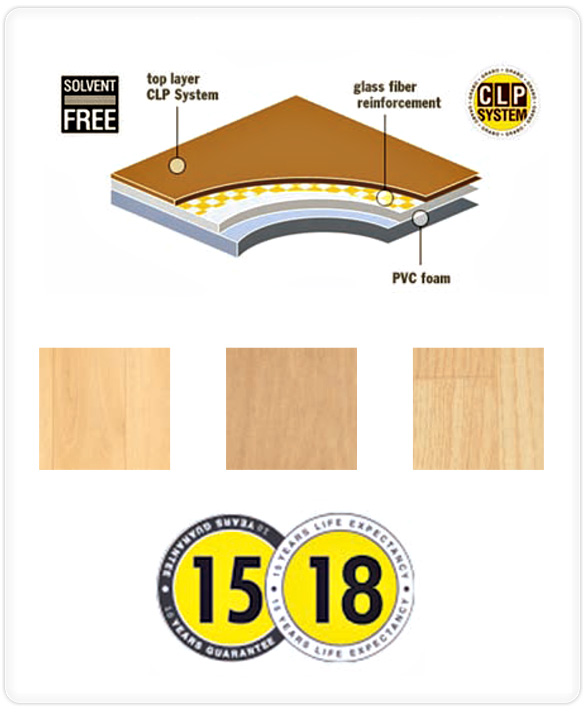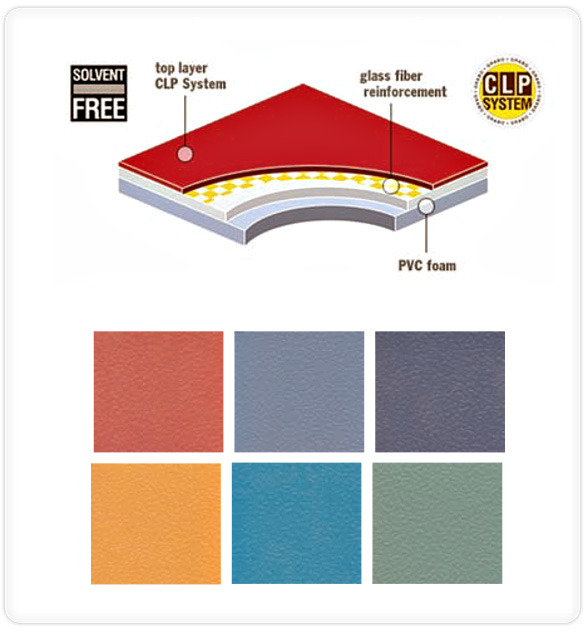 FLEXFIT



An indoor vinyl sport floorings sheet developed for fitness rooms, schools, home, kindergarten, special event with embossed surface, in uni colour and in wood design. The glass fibre reinforcement provides good dimensional stability to the product. These products are made with solvent free technology. Flexfit-XT is a vinyl sport flooring developed for badminton and table tennis, it is appropiate for use in sport halls and convenient as a temporary floors for moblie courts. Due to its special back foam this product has a good joint- friendly characteristics.